The sexiest night on television has arrived again!
Before starting this post, I want you guys to hold back your rude comments.
These models are healthy, they're not ''too skinny'', they look amazing!
Back to the show.
Once again the Angels and cast of models including the newbies Barbara Palvin, Cara Delevingne and Jourdan Dunn walked over the glittered catwalk.
With this years performances of Rihanna, Bruno Mars and Justin Bieber.
People were questioning about what the reason was of the fact that the Biebs will perform but understand that he

performs

at the Pink collection, which is made for teenage girls. And his music is based for teenagers (girls).
But let me go back to the show.
I know this is kind of a late post but I live in The Netherlands so it came a bit later but it's hosted by the amazing Doutzen Kroes so I don't mind!
I have to say that this years show wasn't the best I've seen, but then again, I've only seen like 4.
It seemed like the show only took lake half an hour because before you knew, the show was over!
I also noticed that the music was only played at the beginning because
Rihanna
and
Bruno Mars
performed twice and it didn't fitted the theme
Circus
.
The previous years it was the music, the models, the designs, the energy and the artists which made the Victoria's Secret Show.
This year it were the artist and the models.
I also noticed that the camera was pointed at the artist most of the time I couldn't spot the models!
Maybe it were the expectations. However, I still enjoyed the show and that's what it is about isn't?
My favorite segments were
Dangerous Liaisons and Silver Screen Angels
.
I loved how Lindsay Ellingson strut her stuff and wings on the catwalk because she wore such beautiful big white wings!
Furthermore mommy Angels, Alessandra Ambrosio, Lily Aldridge and Adriana Lima flaunted their sculpted post-baby body's at the annual taping of The Victoria's Secret Fashion Show.
Especially Adriana's body was the most talked about, considering she gave birth 8 weeks before the show!
Alessandra gave birth to a baby boy, Noah Phoenix, Lily gave birth to a baby girl, Dixie Pearl and Adriana gave also birth to a baby girl, Sienna.
Watch this years show and continue reading to see all the outfits with the models.
This year Victoria's Secret welcomed a few new models to their cast.
The models for this years VSFS are:
Lily Aldridge,
Alessandra Ambrósio,
Dorothea Barth Jörgensen,
Cara Delevingne,
Sharam Diniz,
Lily Donaldson,
Jourdan Dunn,
Lindsay Ellingson,
Barbara Fialho,
Isabeli Fontana,
Magdalena Frackowiak,
Toni Garrn,
Izabel Goulart,
Frida Gustavsson,
Jessica Hart,
Sui He,
Erin Heatherton,
Bregje Heinen,
Elsa Hosk,
Constance Jablonski,
Jacquelyn Jablonski,
Miranda Kerr,
Karlie Kloss,
Doutzen Kroes,
Ieva Laguna,
Adriana Lima,
Barbara Palvin,
Shu Pei,
Behati Prinsloo,
Hilary Rhoda,
Cameron Russell,
Shanina Shaik ,
Joan Smalls,
Candice Swanepoel,
Jasmine Tookes,
Maud Welzen and
Liu Wen.
Newcomers this year were: Hilary Rhoda, Jasmine Tookes, Jessica Hart, Maud Welzen, Frida Gustavsson, Barbara Palvin, Barbara Fialho, Sharam Diniz, Jourdan Dunn and Cara Delevingne.
-Samiya Cusman
Let's begin with analyzing this amazing show!
CIRCUS
The show kicked off when Adriana Lima opened the show with the theme Circus.
She's followed by the Angel Candice Swanepoel
Doutzen Kroes in her very cute Poodle outfit
Toni Garrn
Erin Heatherton
Izabel Goulart
Barbara Fialho
Alessandra Ambrosio
Liu Wen all tatted up, it took 6 hours to give her all these tattoos
Joan '' Raawrrr'' Smalls
Rihanna performing ''Diamonds'' in the second segment
Behati opened the second segment ''Dangerous Liaisons''
Lily Donaldson
Constance Jablonski
Miranda Kerr
Shanina Shaik
Magdalena Frackowiak
Isabeli Fontana
Bregje Heinen
Sui He
Doutzen and Rihanna closed the second segment
CALENDAR GIRLS
Karlie Kloss represented November but her ''Sexy Native Girl'' outfit which was probably to present Thanksgiving but, was called offensive.
So they cut Karlie out but you can still see her outfit.
Erin as a New Year's Girl and still did good even though they messed up her hair because her hat wouldn't stay on her head (January)
Candice Swanepoel as a Valentine's Day Angel (February)
Hilary Rhoda as a Clover (March)
Cameron Russell as a Rainy Girl (April)
Frida Gustavsson as a Memorial day/May day/Cinco de Mayo (May)
Lindsay Ellingson as a Sexy Bride (June)
Lily Aldridge as the 4th of July (July)
Barbara Fialho as a Sexy Beach (August)
Izabel Goulart as a Higschool Sexy Cheerleader (September)
Behati Prinsloo as a Sexy Witch for Halloween (October)
Karlie Kloss' (offensive) Native-American Outfit (November)
Barbara Palvin as Sexy ms. Santa Claus (December)
Justin Bieber singing As Long As You Love Me acoustic
PINK BALL
Jessica Hart coming on stage with Justin Bieber while he's performing ''Beauty & A Beat''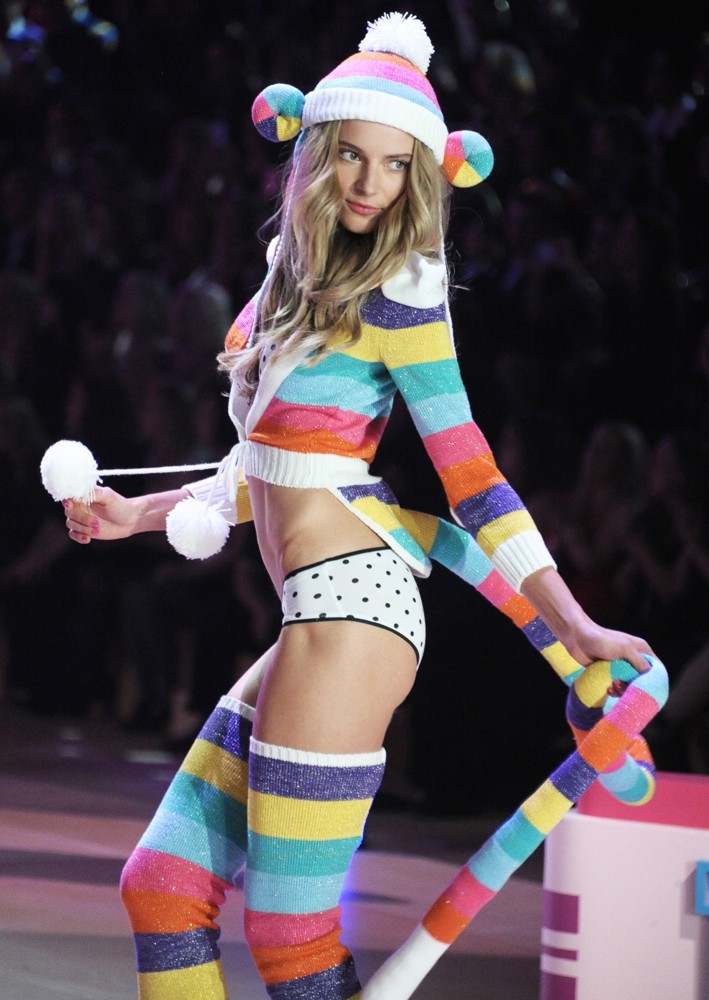 Ieva Laguna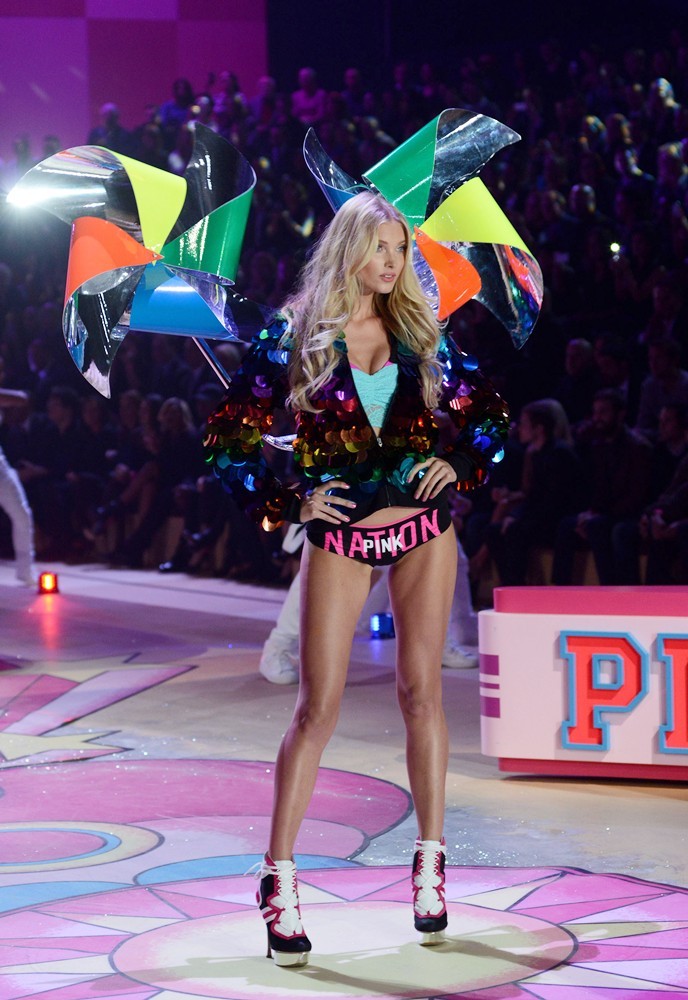 Elsa Hosk
The Biebs dancing with his dancers
Dorothea Barth-Jorgensen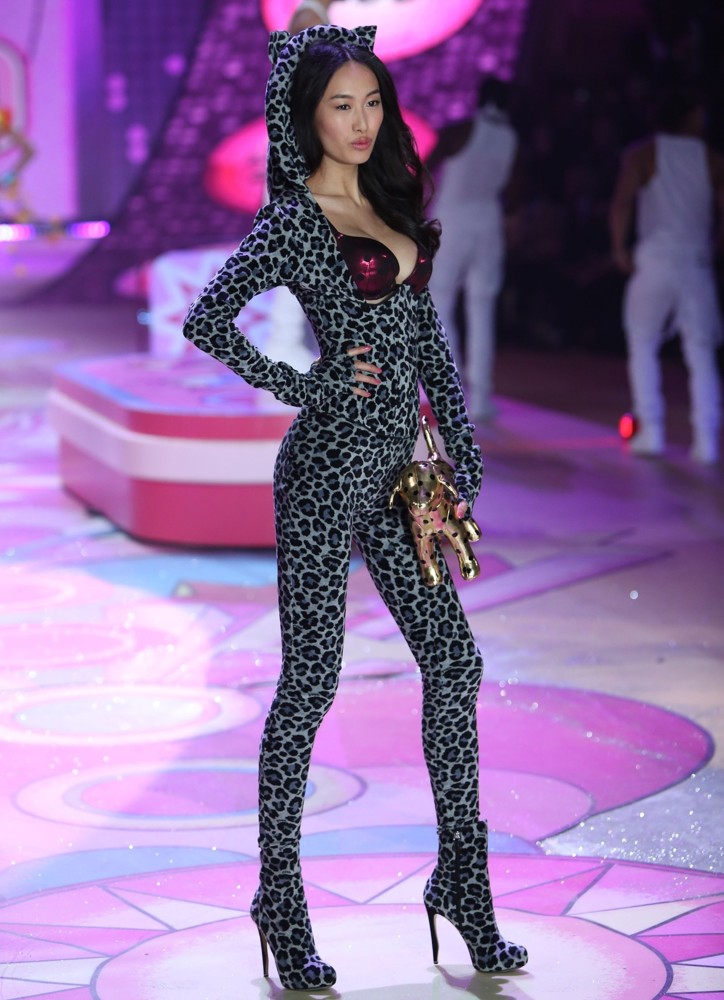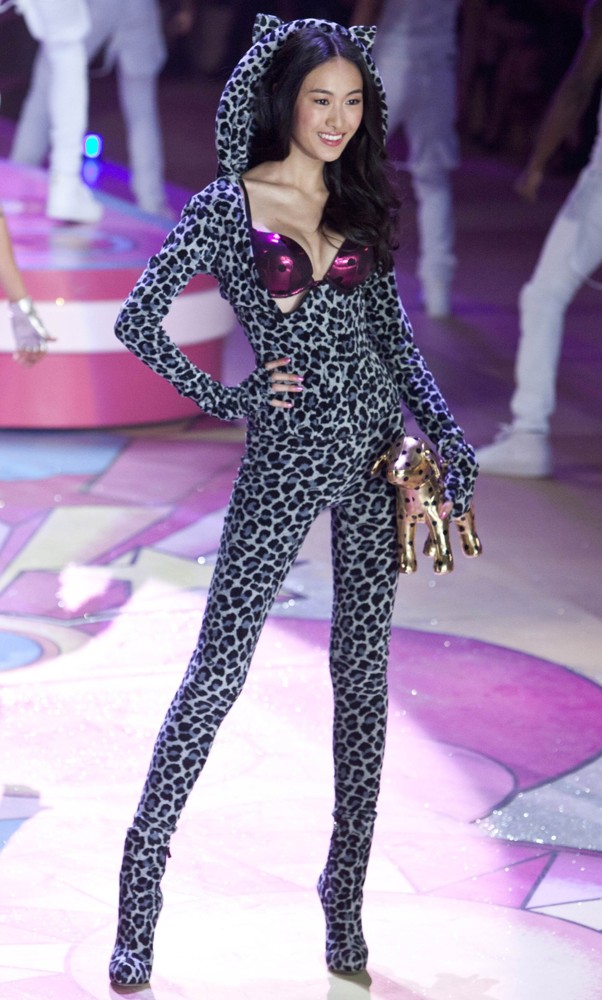 Shu Pei
Cara Delevingne
Sharam Diniz
Jacquelyn Jablonski
Maud Welzen
Jourdan Dunn
SILVER SCREEN ANGELS
Lindsay Ellingson opened the 5th segment with Bruno Mars performing ''Young Girls''
Bruno Mars Performing ''Young Girls''
Sui He
Doutzen Kroes
Hilary Rhoda
Bregje Heinen
Cameron Russell
Joan Smalls
Magdalena Frackowiak
Lily Donaldson
Miranda Kerr
ANGELS IN BLOOM
Rihanna perfoming ''